Mystery Men - (1999) - Netflix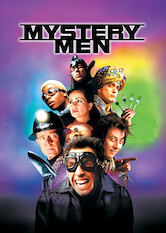 2h1m -
Action & Adventure
How To Unblock Every Movie & TV Show on Netflix No Matter Where You Are
2h1m -
Action & Adventure
A team of far-from-super heroes try to earn respect by springing into action when brave and dashing Captain Amazing disappears.
Director:

Kinka Usher

Cast:

Ben Stiller

,

Hank Azaria

,

William H. Macy

,

Janeane Garofalo

,

Kel Mitchell

,

Paul Reubens

,

Wes Studi

,

Greg Kinnear

,

Geoffrey Rush

,

Lena Olin

,

Eddie Izzard

,

Artie Lange

,

Pras

,

Claire Forlani

,

Tom Waits

Netflix Rating:

6.1/5
Rotten Tomatoes Score:
61/100
Countries Available in:

Not available where you live? Learn how to unblock Netflix & watch this title.

Available Since:
2021-09-02
Trailer:
Similar Titles:

Synopsis
In order to generate more endorsement revenue Champion City's resident superhero Captain Amazing arranges for the release of supervillain Casanova Frankenstein only to be captured by him. The city's fate rests in the hands of seven loser superhero wannabes: the spoon-flinging Blue Rajah the shovel-wielding Shoveler the possessed bowling ball-hurling Bowler the flatulent Spleen the only-when-nobody's-looking Invisible Boy the mysterious Sphinx and the perpetually-angry Mr. Furious.
Other Titles Being Viewed Right Now