X-Men - (2000) - Netflix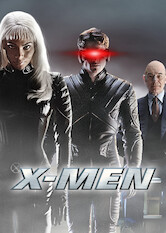 1h44m -
Comic Book and Superhero Movies
1h44m -
Comic Book and Superhero Movies
Amid increasing fear and bigotry, Professor Charles Xavier provides a safe haven for powerful outcasts like Wolverine, Rogue and Storm.
Director:

Bryan Singer

Cast:

Hugh Jackman

,

Patrick Stewart

,

Ian McKellen

,

Famke Janssen

Netflix Rating:

7.4/5
Rotten Tomatoes Score:
0/100
Countries Available in:

Not available in your region? Sign up for ExpressVPN to unblock Netflix!

Available Since:
2019-07-01
Trailer:
Similar Titles:

Synopsis
In a world where both Mutants and Humans fear each other, Marie, better known as Rogue, runs away from home and hitches a ride with another mutant, known as Logan, a.k.a. Wolverine. Charles Xavier, who owns a school for young mutants, sends Storm and Cyclops to bring them back before it is too late. Magneto, who believes a war is approaching, has an evil plan in mind, and needs young Rogue to help him.
Other Titles Being Viewed Right Now