Eight Legged Freaks - (2002) - Netflix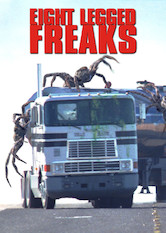 1h39m -
Action & Adventure
How To Unblock Every Movie & TV Show on Netflix No Matter Where You Are
1h39m -
Action & Adventure
A toxic-waste containment spill near a small Arizona community causes spiders to mutate into rampaging arachnids the size of automobiles.
Director:

Ellory Elkayem

Cast:

David Arquette

,

Kari Wuhrer

,

Scott Terra

,

Scarlett Johansson

,

Rick Overton

,

Doug E. Doug

,

Matt Czuchry

,

Leon Rippy

,

Eileen Ryan

,

Jay Arlen Jones

,

Riley Smith

Netflix Rating:

5.4/5
Rotten Tomatoes Score:
47/100
Countries Available in:

Not available where you live? Learn how to unblock Netflix & watch this title.

Available Since:
2021-11-01
Trailer:
Similar Titles:

Synopsis
The residents of a rural mining town discover that an unfortunate chemical spill has caused hundreds of little spiders to mutate overnight to the size of SUVs. It's then up to mining engineer Chris McCormack and Sheriff Sam Parker to mobilize an eclectic group of townspeople, including the Sheriff's young son, Mike, her daughter, Ashley, and paranoid radio announcer Harlan, into battle against the bloodthirsty eight-legged beasts.
Other Titles Being Viewed Right Now