Bleach: The Movie 2: The Diamond Dust Rebellion - (2007) - Netflix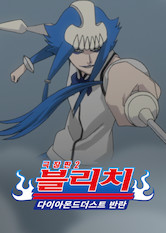 1h32m -
Action & Adventure
How To Unblock Every Movie & TV Show on Netflix No Matter Where You Are
1h32m -
Action & Adventure
When the royal king's seal is stolen from a caravan, boy captain Toshiro Hitsugaya pursues the thieves but finds himself accused of the crime.
Director:

Noriyuki Abe

Cast:

Fumihiko Tachiki

,

Noriaki Sugiyama

,

Yuki Matsuoka

,

Hiroki Yasumoto

,

Masakazu Morita

,

Fumiko Orikasa

,

Akira Ishida

,

Masaaki Tsukada

,

Kentaro Ito

Netflix Rating:

7.2/5
Rotten Tomatoes Score:
0/100
Countries Available in:

Not available where you live? Learn how to unblock Netflix & watch this title.

Available Since:
2019-05-01
Similar Titles:

Synopsis
An artifact known as the 'King's Seal' is stolen during transport from the Soul Society by an unidentified Soul Reaper and two Arrancar resembling girls who control fire and lightning. During the attack, Toshiro Hitsugaya corners and seems to recognize the Soul Reaper, who immediately stabs him in the stomach. In the middle of battle, Hitsugaya abandons his post to pursue him and leaves his squad behind to fend for themselves. After the battle, The Soul Society suspects Hitsuguya of treason and orders his immediate capture. The whole 10th Squad is then put on house arrest at which time they can surmise whether or not the division should be abolished. With the whole of Soul Society looking for Hitsugaya, Ichigo as a soul reaper on patrol accidentally stumbles upon Squad 2 Captain Soifon while she is conducting an investigation of the transport site. Soifon informs him of the events happening in the Soul Society and dispels the kido surrounding them. As Soifon disappears with her crew, Toshiro makes his presence known and passes out in front of Ichigo and Uryu. Awakening in the Kurosaki residence, Toshiro refuses to explain what's happening. In the midst of their discussion, Ichigo is attacked by the two arrancar before he can force the issue more. Toshiro escapes, continues to avoid capture. However, things only get worse when the Soul Reaper thief, identified as Former Soul Reaper Sojiro Kusaka also uses Hyorinmaru, a sword identical to Hitsugaya's, to injure Shunsui Kyoraku. Toshiro's capture is then made top priority and his execution is approved.
Other Titles Being Viewed Right Now