Storm: Letters van Vuur - (2017) - Netflix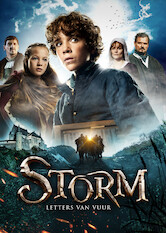 1h45m -
Children & Family
How To Unblock Every Movie & TV Show on Netflix No Matter Where You Are
1h45m -
Children & Family
After a man is caught printing forbidden texts, his son embarks on a dangerous quest to save his father before he can be executed.
Director:

Dennis Bots

Cast:

Maarten Heijmans

,

Yorick van Wageningen

,

Angela Schijf

,

Tibo Vandenborre

,

Juna de Leeuw

,

Peter Van den Begin

,

Davy Gomez

,

Luc Feit

,

Egbert Jan Weeber

,

Laura Verlinden

Netflix Rating:

6.1/5
Rotten Tomatoes Score:
0/100
Countries Available in:

Not available where you live? Learn how to unblock Netflix & watch this title.

Available Since:
2019-05-29
Trailer:
Similar Titles:

Synopsis
Storm Voeten, son of printer Klaas Voeten, becomes the target of a hunt by the Inquisition. Aided by Marieke, a mysterious girl living in the underground sewers of Antwerp, Storm is caught in a race against time to save his father from death.
Other Titles Being Viewed Right Now