Johnny English Strikes Again - (2018) - Netflix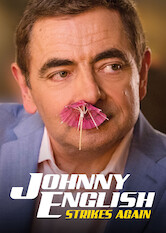 1h28m -
Action & Adventure
How To Unblock Every Movie & TV Show on Netflix No Matter Where You Are
1h28m -
Action & Adventure
After a cyberattack exposes every undercover agent in Britain, a certain tech-challenged former agent emerges from retirement to catch the hacker.
Director:

David Kerr

Cast:

Rowan Atkinson

,

Emma Thompson

,

Olga Kurylenko

,

Jake Lacy

,

Ben Miller

,

Kevin Eldon

,

Adam James

,

Matthew Beard

,

Charles Dance

,

Edward Fox

,

Michael Gambon

Netflix Rating:

6.2/5
Rotten Tomatoes Score:
37/100
Countries Available in:

Not available where you live? Learn how to unblock Netflix & watch this title.

Available Since:
2021-10-11
Trailer:
Similar Titles:

Synopsis
After a cyber-attack reveals the identity of all of the active undercover agents in Britain, Johnny English (Rowan Atkinson) is forced to come out of retirement to find the mastermind hacker.
Other Titles Being Viewed Right Now