Chez Nous - (2013) - Netflix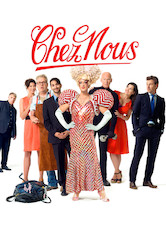 1h41m -
Comedies
When a small-town gay bar begins to drown under financial weight, a group of friends devises a heist to tip the odds back in their favor.
Director:

Tim Oliehoek

Cast:

Alex Klaasen

,

Achmed Akkabi

,

Peter Faber

,

Frederik Brom

Netflix Rating:

6.5/5
Rotten Tomatoes Score:
0/100
Countries Available in:

Not available in your region? Sign up for ExpressVPN to unblock Netflix!

Available Since:
2019-03-08
Trailer:
Similar Titles:

Synopsis
Chez Nous is about 'gay friendly' pub 'Chez Nous' which, threatened by bankruptcy, might be sold to a powerful nightlife proprietor. To prevent this sale the regular customers (an extra ordinary group of friends; male - female / homosexual - heterosexual) plan to commit a heist during the Amsterdam Gay Pride. They want to steal a diamond necklace (which is worth millions) from the Amstel Museum and hope to escape and save their favourite hangout this way. Will they succeed?
Other Titles Being Viewed Right Now