Chhota Bheem & Krishna: Pataliputra- City of the Dead - (2010) - Netflix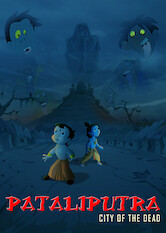 1h5m -
Children & Family Movies
How To Unblock Every Movie & TV Show on Netflix No Matter Where You Are
1h5m -
Children & Family Movies
Krishna needs Bheem's help: The ruined city of Pataliputra has been cursed! Can the friends do what it takes to bring light back into this town?
Director:

Rajiv Chilaka

Cast:

Vatsal Dubey

,

Julie Tejwani

,

Rupa Bhimani

,

Jigna Bhardwaj

,

Rajesh Kava

,

Arun Shekher

,

Sanchit Wartak

Netflix Rating:

4.3/5
Rotten Tomatoes Score:
0/100
Countries Available in:

Not available where you live? Learn how to unblock Netflix & watch this title.

Available Since:
2021-07-22
Similar Titles:

Synopsis
The extremely strong Bheem lives in a fictional town called Dholakpur set in rural India. The series revolves around Bheem a nine-year-old boy who is brave strong and intelligent.Bheem's rival is Kalia Pahelwan a jealous ten -year-old bully who is envious of Bheem's popularity. Kalia along with his sidekicks Dholu and Bholu always plot to embarrass and defeat Bheem but never succeed. The story revolves around Bheem and his friends and their rivalry with Kalia and his friends. All the children of Dholakpur look up to Bheem as he solves everyone's problems. He is also seen defeating some enemies in and around Dholakpur like the evil demon Kirmada Kichak & Mangal Singh. Bheem earns the trust of Dholakpur and Raja Indravarma.The stories of Bheem project him as a hero of Dholakpur.He saves Dholakpur and the world by having a laddoo with a cocktail of courage and gravity defying stunts.
Other Titles Being Viewed Right Now